Remember when you were 18 years old and could cum five, six times a day? Those hormones were just so intense! Proof of that is right here with Josh Farve. Once this teen got started, there was no looking back. His intensity went from 0 to 100 real quick. Best part about all of this is that Renee Hurtz was more than willing to satisfy Josh to the fullest. After all, Renee was only Josh's 4th girl he had ever been with. Because of this, once we let him loose on Renee, it was like an inner beast came out of the kid. His desire to fuck was so intense that you could just feel it (and see it). Come along with these two hotties as they fuck each other's brains out!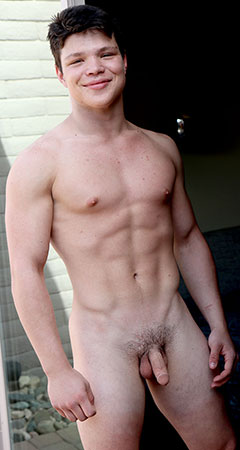 BAPTIST45

-

8 months ago
I thought Josh was leaning more toward guy sex? In his first video on GH with Colin Simpson, the impression was given that he was more into guys than girls. Could someone enlighten me?
Cojones123

-

1 year ago
Josh is a hot fucker! Nice cock and nice ass. She certainly seemed to have a good time
rHyp6bAEf

-

1 year ago
TAGGING FUCKING SOUNDS GREAT...
cwK3Ac8rSDw3

-

1 year ago
Perhaps an idea for a future scene would be to have all of the younger 18/19 year old studs tag team one or two experienced chicks/milf. That'd be fuckin' HOT!
cwK3Ac8rSDw3

-

1 year ago
Its so nice to see a stud from your hometown make it big, even if its porn. Wished more studs like him from down here can make it big too. So much local hotties here ;) Josh Farve is definitely HotGuysFuck stud material. Please bring him back!
ItsMeDonaldJ

-

1 year ago
Why the fuck this dude breathing like he just ran 10 miles in the middle of summer in Georgia?
Cornopean

-

1 year ago
Hot hot hot Josh. Great cum scene. Lots more of Josh please.
L6z7qSCPGYPk

-

1 year ago
Like a bunny rabbit.
Sexolover

-

1 year ago
Mmm so hot boy!
cnmcginn81

-

1 year ago
Holy shit, what a lucky bitch! Josh is hot and fucks like a demon. Very jealous of her. Ca't wait to see more of Josh at either site. :D