Aug 23,2019
Amazing Cock Talent From Kaleb Bell FUCKING Tiny 18yo Teen Aubrey Dolan
61050 views
83%
17%
Kaleb Bell has got some serious skills in the bedroom. Hands down, this hot young man knows how to FUCK. And we love to watch him put on a show. Ultra tiny, petite Aubrey Dolan takes on Kaleb and his mighty cock in this raunchy fuck. At first glance, you would never think little Aubrey would be able to take dick, but watch for yourself... This young babe is a FREAK and never turns down a good hard fucking.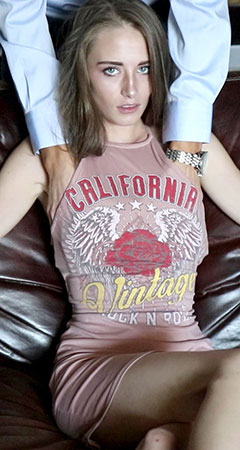 vZUdGP1bwZ

-

6 months ago
When can we see more of him
metaldevilmc

-

9 months ago
This girl has a beautiful face but was a terrible fuck. Kaleb clearly looked turned off by the lack of involvement from the girl. Kaleb deserved a better girl to work with. Watch the Tina/kaleb scene for comparison
chekslovakian

-

9 months ago
Wow. She's VERY skinny.
Bladeslinger9

-

9 months ago
This girl needs some help, she clearly has an eating disorder. Kaleb being beefed-up does make her look sickly... get some help girl!
hienphan07

-

9 months ago
Ehh he is a machine but zero passion. Chad is better
mih2852

-

9 months ago
I think the girl is suffering from anorexia.... She should see someone...
JasonBeck

-

9 months ago
OMG DPJock. Kaleb's athletic savagery meets Channing Rodd's ability to fuck for days? That's an inspired idea!
JasonBeck

-

9 months ago
I'm totally with tgcblueranger. Kaleb is like the lovable little mascot of Hgf. Hope the other hgf guys are taking notes-they could learn a thing or twelve from this true "Fuck Master".
DPJock

-

9 months ago
Awesome video. Need to get Kaleb and Channing together to split a girl !
tgcblueranger

-

9 months ago
I would easily subscribe to an all-Kaleb site. He is a Fuck Master of the highest level. He's like a real superhero with the looks, the attitude, and the *skills*. All hail Kaleb, our king and master :)
Yohidol

-

9 months ago
The guy is so hot
Lstshn9

-

9 months ago
Every girl deserves to be fucked like that at least once in their lives.