Dustin Reynolds gets bigger and BEEFIER every time we see him! Gotta love that. We know Jane Rogers certainly loves being smothered and man handled by a big man like Dustin. She became his personal rag-doll in this WILD scene. Dustin had never been with a red head before and he said it was some of the wildest sex he has EVER had! Wonder if he will be scoping out hot, fit redheads like Jane in his personal life now. We put our money on YES after seeing that electrifying FUCK! Side note: Dustin admitted Jane gave him the best head he has ever had! Love to hear that we were able to catch a moment like THAT on camera for you all to enjoy!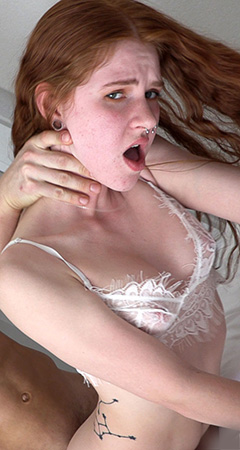 caught69

-

1 month ago
After the they have sex, another trailer like thing plays. It appears to be an add for too hard. My favorite part of that scene is when there's a black girl that say "yes daddy". Does anyone know which video that one is?
blareed

-

3 months ago
I love Jane Roger. So sexy and I love her feet!
armin3

-

3 months ago
please bring back anthony ferrari and jared flores. don't bring back nic rivers
JasonBeck

-

3 months ago
Honestly I'm not a fan of either of these two, but the preview for Friday's video more than makes up for it tho!!! Woo!