Collin Simpson gets his first ethnic girl Melani Davis and falls in love. Collin loved how flavorful Melani was and couldn't keep his eyes, hands, or lips off her. Melani was stuck in a trance the moment she laid eyes on Collin's thick cock. It almost looked like the cock hypnotized her. Anyway, the sex here is amazing. These two really hit it off and the chemistry was absolutely there. I personally loved the post behind the scenes content because it expressed how real everything is. In case you all were wondering, Hotguysfuck is a complete free for all. We don't tell or dictate anything in or behind the scenes. We think it's hottest to just let the models have fun and we do our best to capture it all without disruption.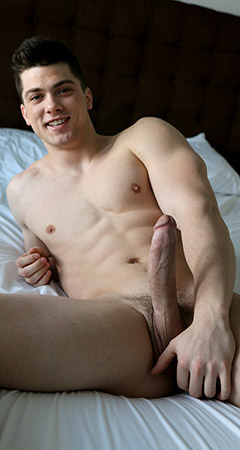 Bigc77

-

1 year ago
Damn. I cannot get enough of Collin. He is so damn hot.
sidalt99

-

1 year ago
She is terrible
AEY847gUW3sa

-

2 years ago
More of Collin! Please!
nQyeJJvHUrgF

-

2 years ago
Can I just say how much I love Collin Simpson? Minute 28: "You are destroying the talent, sir." "Well, that's my job."
tiberian

-

2 years ago
after all that no visible cumshot. you can do much better than this
Swimmer99b

-

2 years ago
He's fucking hawt
jfNQTnn4Pw7

-

2 years ago
This makes me wanna fuck a chocolate girl
VePZe5nT5eP

-

2 years ago
Hmm 🤔 I Wish they do better pics of the males and show more of he's ass. More closeups please
ryley004

-

2 years ago
Agreed HktRBLuWm8.....It's the scene I have been looking forward to the most for awhile now! Nick always delivers an amazing performance!
HktRBLuWm8

-

2 years ago
I am with ryley004...when will Nick Paul and Melani Davis be released?? I think it would be a hot video, between the both of them.
ryley004

-

2 years ago
When is the scene with Nick Paul and Melani Davis going to be released??
HktRBLuWm8

-

2 years ago
OMG !!! I have to wait almost a week for this film to come out. I want to see Collin fuck her so bad!!!
czKykA29Hd9

-

2 years ago
There is a total absence of female dirty talk in adult films these days. I want to hear how great that big dick is, how good her pussy feels, and how much she wants to get fucked hard. And no screaming.
czKykA29Hd9

-

2 years ago
With the way these girls are getting fucked, in between moans, we should be hearing: "Give me that big dick (no cock plz, just dick)", "fuck my pussy faster," "God your dick is so hard," "you love that pussy don't you?", "keep fucking me."
czKykA29Hd9

-

2 years ago
Melani is my favorite female model on the site, but like every other female model I have seen, I have been disappointed in the complete absence of dirty talk from the female models during the scenes.