What a smokin' hot couple. Blake Michael shows no respect and slams Savannah Camon's head on his dick just so we can watch her big titties shake, but that's just Blake's style. He reciprocates and digs out the pussy fast and hard while playing with her clit. Blake hits it every way he knows (which isn't much yet... he's young) but when Savanah drops her dump truck booty on Blake, he can't take anymore! Savanah rolls on her back and begs Blake to "cum on me". Good girl Savanah, and such a gentleman Blake.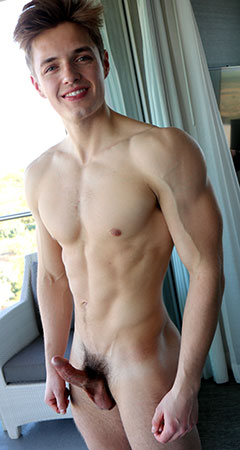 Pdxlion

-

2 months ago
The dude has no Ruth
BAPTIST45

-

8 months ago
Blake is very attractive and good looking, I could watch him all day long. He is so hot.
BAPTIST45

-

8 months ago
BLAKE IS SOOOOO CUTE AND HAS A GREAT BODY. THANKS YOU, BLAKE, WELOVE YOU.
JasonBeck

-

11 months ago
Hot couple. Hot fuck. Savannah is smokin' hot and Blake's not bad either. Together they make for a great scene. A pairing of Savannah and John Murphy or Rico Vega in the future would probably blow my mind.
adlfresh

-

11 months ago
this chick is great
digidydawg89

-

11 months ago
I'm sorry, but Blake is not attractive. Like at all. Bring back Vinny Tesoro or Drew Jeffrey please.