Maya Kim was headed over to meet Jerry Cabrera at his house to hang out for the afternoon. Sean Costin, Jerry's roommate, ended up answering the door and letting Maya know that Jerry was going to be about an hour. Sean told her to come inside and she could hang while waiting for Jerry. Maya kept stealing glances at Sean's amazing body. He was only wearing a towel because he'd just got out the shower to freshen up. After about 45 minutes of waiting, Maya knocked on Sean's door only to find him naked looking through his phone. Sean immediately started blushing and tried to cover up what was going on, until he Maya made a pass at him. Sean knew Jerry was a punk and wouldn't do anything anyway if he walked in on him hooking up with Maya. Both of the two started to get real naughty completely stripping and fondling each other. Sean broke a sweat fucking Maya so ferociously. After then finished hooking up, I think Maya has decided Jerry Cabrera isn't the one she should be visiting. Sean Costin steals another one...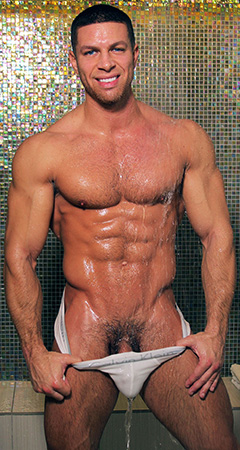 random

-

1 year ago
He's black and goes to a black barber...hairline is done with a razor blade lol
maxi81

-

1 year ago
This guy's too big and bulky to me....
v35AsR7juCL8

-

2 years ago
Great fuck! Sean cumming on his abs would be amazing 😍
lael

-

3 years ago
hornyhipster- make sure you're logged into members area.
hornyhipster

-

3 years ago
the video is only 1:28 min? wtf
sapper3773

-

3 years ago
Top Notch Stud!!! Sean got his morning work done fucking the shit out of this girl. Seeing Sean put in that work, abs all dripping in sweat was one of the hottest sights ever. More of studs getting all sweaty while some pounding pussy
Blagden

-

3 years ago
Note: That's the first time in my career THAT ever even came close to occuring. Umm, by the way... What was THAT? lmfao
Blagden

-

3 years ago
I am a hairdresser. To avoid any further conjecture on the matter. His hairline is not a natural growing hairline. In some manner or another his scalp has been sophisticated. I can't venture how or why. I can assure all of you It's not natural.
cinnamontea

-

4 years ago
sweating is always hot!
Ghermes

-

4 years ago
I think his hairline is tattooed. Anyway...hot vid! Def a keeper. ;)~
Icarus213

-

4 years ago
Sean is a smart guy. Even before his roommate's girl stops by, he makes sure the three point lighting kit is set up in his living room.
luciusnemici

-

4 years ago
his haircut looks like a helmet haha
lanztn

-

4 years ago
Looking forward to see Sean's return. Great taste.
13Zeroither

-

4 years ago
I'm glad this stud got to come back & show us how he fucks the pussy good.