Holy shit... Did that JUST happen?? It had been seven months since new guy, Price Hogan, had some pussy and boy does it show! Ashley Daniel is a bonafide pro at sucking dick and fucking so it was only natural that Price had to call timeout several times. Eventually... Ashley's tight pussy gets the best of 18-year-old Price. Fortunately, he is just that, 18-years-old and that means that he was ready to fuck again. Immediately after busting a nut. Remember when you were 18? How many nuts could you bust off at that ripe young age?? Ah those were the good ol' days!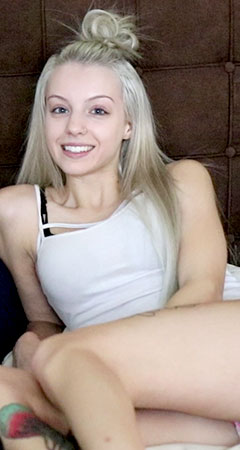 Flynwa757

-

1 year ago
Would love to see her eat him out and lick the hot cum off his hot muscles. Would love to see him fill her pussy with cum.
PanzerElite2

-

1 year ago
Nice. If the guy can go again let him. More scenes with the guy cumming more than once.
Swimmer99b

-

1 year ago
7 months without pussy? WTF did he do?
L6z7qSCPGYPk

-

1 year ago
As she said, "He know what he's doing."
digidydawg

-

1 year ago
Looks like a hot scene! Ashley is definitely my favorite girl right now. She's so tiny and it's fun watching big guys have their way with her