Check out our brand new ripped MEGA stud, Rico Vega! This young bodybuilder is still in his teens with a physique like that?! Look out world! Rico loves a blonde with a phat ass... and we SO have the chick, just for our boy. Victoria Hobbs got the call and when she saw a picture of brawny young Rico, she actually said, "You're joking...I really get a chance to fuck this hot guy?!" When Victoria walked in the door and Rico realized that big booty was reserved for him, fist bumps of plenty ensued. We got you Rico! We want to make sure we take good care of ya, so you come back for more! This kid was genuinely excited to get in front of the camera and show off. He's worked hard for that bod and now it was Rico's big moment to shine! Well it was worth pampering this hottie. Rico is sporting a big hot uncut cock and he knows how to use it. These two fucked each other to exhaustion... not until there was plenty of jock cum covering Victoria though.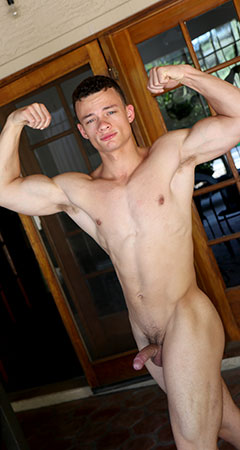 JasonBeck

-

9 months ago
I f*cking love this video.
aiguang1

-

10 months ago
why there is no more comments??
maxi81

-

1 year ago
Shocked that he didn't get more comments. One of the best scenes in here! Rico was hotter in this scene because they had a bed where anything is possible instead of just a small sofa. Love that his fave position is also missionary. Well done!
JasonBeck

-

1 year ago
Rico Vega comes off as just an ordinary dude at first, but when the shirt comes off and he gets down to business, just...WOW. From a straight up physical perspective-this is easily one of the hottest videos on the site. Boy knows how to bring it!
Mardon

-

1 year ago
very hot !!!
Craiglucas1

-

1 year ago
Good god!!! This man is intense!!! More please.