Our new guy Ryan Lacey is a California dreamboat. About 6'3" 190lbs, this athletic hunk is easy on the eyes to say the least. Ryan got a chance to shoot with us because of a last minute cancellation actually. We couldn't just let sexy miss big booty Victoria Hobbs go without getting some D. She's horny as hell! And we love to watch that twerk. Ryan was excited for the opportunity, since he had been a big HGF fan for months. He just had to finish up his shift at his job, delivering pizzas. What would you do if you opened up the door to gorgeous Ryan Lacey standing there holding your pizza?? When Ryan showed up, it was getting dark quick (and we typically only shoot using natural lighting). He pulled us aside and admitted that he was VERY nervous but like an excited nervousness. We thought it was just the usual first time butterflies in the stomach type thing but once we got down to the blow job, he went so camera shy that even the sight of the camera or another person in the room would leave his big cock folding over. What do we do? Improvise. Since it was now dark outside, why not shoot outside looking in? Ryan won't even be able to see us so he can focus on getting in the zone with blonde bombshell Victoria. Here at HGF, we stay innovative so we can ALWAYS bring you the hottest studs in the WORLD getting their FUCK on! ...No matter what ;) And damn glad we did... Watching Ryan in all of his hot, big dick glory is something to enjoy time and time again! Enjoy a voyeuristic touch on your typically HotGuysFUCK scene.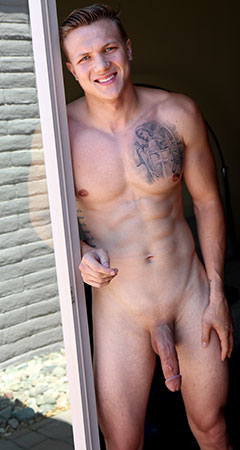 collegeboi594

-

1 year ago
Most of the audio is gone because you're filming from outside. I like the thought but the execution was crap!
metaldevilmc

-

1 year ago
bring ryan back to fuck nina...they would be so hot together
brownfulk

-

1 year ago
Ryan has a great ass. Nice to see him fuck !
chrispaton

-

1 year ago
The camera work on this.... What the heck
JasonBeck

-

1 year ago
I kinda feel sorry for the guy as he does seem extremely uncomfortable filming this scene. Hopefully he'll find his confidence in the future as he's a good looking guy who's been anatomically gifted.
Poppypaint26

-

1 year ago
Shit camera work
Dd042494

-

1 year ago
I'm sure it would've been a good scene if we could actually hear all the action.
nQyeJJvHUrgF

-

1 year ago
Love this guy, have him back!
arielanatole

-

1 year ago
Seriously dug this scene.
metaldevilmc

-

1 year ago
Great looking guy and I'll be the one to say I kind of appreciated the creativity behind the camera work. I'm very into the voyeur aspect of watching two people have sex so this very much played into that. Needed more audio though and less cowgirl
Bub159

-

1 year ago
I miss paul tiller
jinmichaels

-

1 year ago
just shoot the video inside the room next time....
jinmichaels

-

1 year ago
ok what's with this camera work.....
torrancew

-

1 year ago
Really poor camera work! if I wanna get inspiration about a room decor, I'll watch this video and many many video of this site.
sXvgjBvgEpJv

-

1 year ago
Hot guy. Weird camera shots.
Reesinhd

-

1 year ago
Yeah he's definitely hot but didn't know what to do with that cock .yawn fest
darkmatter23

-

1 year ago
The most boring so far. Lacks energy or aggressiveness from both. But they both have hot bodies.