Sebastian Hook was getting a shoulder rub to get out some kinks. Amy Miller's touch alone gave Sebastian the goose bumps and slowly found himself getting horny. He turned around and kissed Amy passionately. They quickly got naked and oral turned into hardcore fucking. Amy really took a pounding from the shredded, high energy study, Sebastian Hook.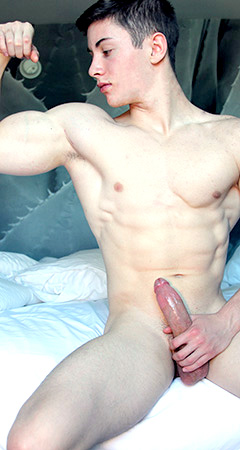 MrLover

-

1 month ago
She is so pretty but the Kamaraman show not her face not
Michaelides867

-

11 months ago
More video with this boy
JasonBeck

-

1 year ago
It's nice to see guys on here genuinely turned on by the girl they're fucking-we don't always get that and you can't fake the rock-hard boner he's sporting. You'd never guess at first glance either what a total fuck machine Sebastian ends up being.
uAFaNM3tUe

-

1 year ago
Would really like a new video with this guy.. he is the hottest model on the site, but only one video :/
L6z7qSCPGYPk

-

2 years ago
Sebastian and Monica Scott would be fun.
exVyg1Wr5n

-

2 years ago
Her feet are so fucking hot!
thawker

-

2 years ago
Sebastian is a total hottie! Would love to see more videos of him.
GaryLg

-

3 years ago
What a hot fucker,. Cute,handsome,hot fucker. Dream boy for most of girls and even boys-hehe
SHhotguy

-

3 years ago
some of his photos are watermarked 'gayhoopla,com'....how many videos does he have on that site, a sister-site to this one. I'd like to see more of his action films.
10sprof

-

3 years ago
Should have tried to get more with this guy!
Harrier

-

4 years ago
What a cute stud...more please!
Swimmer99b

-

4 years ago
Wonder if he needed the whole box of rubbers on the counter?
Louis1925

-

4 years ago
Awesome video. Very hot. We need more of this stud. I want to show my wife and have her dream of him.
jonbautista11

-

4 years ago
We need more videos of Sebastian!
pudgester

-

4 years ago
Sebastian has the cutest ass!