Mar 27,2020
Teen Spinner Stephanie Amato Gets Superstar Collin Simpson's Big Dick For Her First Scene
61996 views
100%
0%
TWO SCENES IN ONE - That's right everybody! These two simply wouldn't stop fucking each other. So, naturally, we had to just let them do their thing! At first, Stephanie Amato wasn't sure if she was even going to be able to handle the veteran dick on Collin Simpson. Once she got going though, look out... This chick was a super freak with some crazy energy. She was bouncing up and down on Collin's pole like she was never gonna stop! Collin loved being Steph's first HGF experience. What he loved even more was her head game. Damn this chick can do it all. She will suck and fuck you till you cum, no matter how long it takes. After an already long fuck session and post-interview, we hear things go suddenly quiet and peek around the corner to see these two young horny fuckers going back at it for round two! If you're a fan of either one of these two hotties, you're getting all the sex you can handle in this high energy packed scorcher of a scene.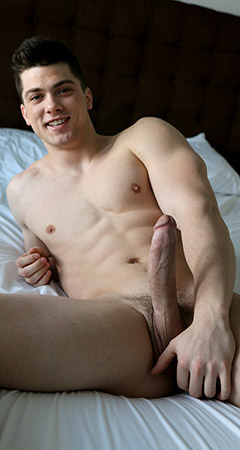 MrLover

-

1 month ago
I think Stephanie like sucking cocks.Her Blowjobs are 1A
Amandeep

-

1 month ago
Why are you bringing collin simpson back he is not appropriate for this site let him rest at his home bring some hot guys back like nic rivers, diego cruz and mario cortez
JasonBeck

-

1 month ago
I get the distinct feeling you guys have been "cleaning up the backlog" all year long, but are we eventually going to get some new guys? You've been teasing them for months on social media, but so far the only real new guys this year have been Jeremy Barker and Chris Banner.
JasonBeck

-

1 month ago
Stephanie has always been one of the best girls on this site. I honestly don't know how some of these guys last so long the way she works them over.
JasonBeck

-

1 month ago
This is the 16th Collin Simpson video. Just to put that into perspective that's as many as Kaleb Bell, Ricky Owen, Travis Youth, Kyle Holmes, Peter Grom and Taylor Shift COMBINED!!! All I can say is.,,,why?
Jko122

-

1 month ago
FINALLY: i'm very, very, very excited for Marcus Mora!!
Jko122

-

1 month ago
i never really understood that collin-simpson-hype ... until i saw that performance!